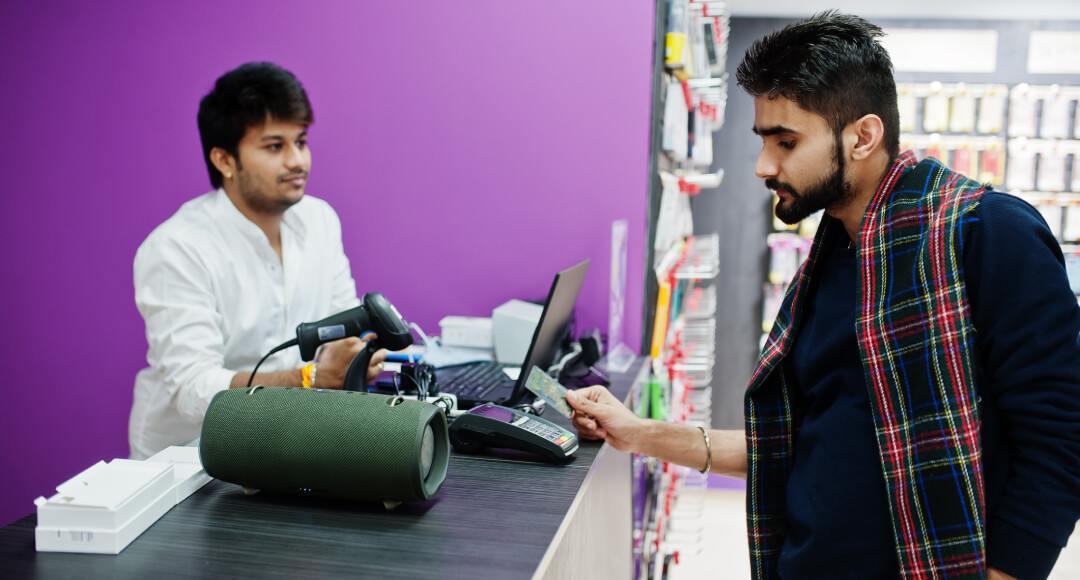 Increasing products sales is the cornerstone of every retail store owner or business enterprise. Excellent customer service, ensuring impeccable product quality, knowing your customer's needs, keeping track of your inventory, employee customer service etiquette, play an essential role in improving your overall sales and the bottom lines of your business. 
Now, as a retailer or a business owner you may be aware of all this, but yet wondering as to how a point of sale (POS) system can help achieve this in a better manner and help grow your business.
A point of sale (POS) system can help give snapshots of the health, growth, and performance of your business at any time. Any expense incurred or spent on your business needs to yield a good return, and your POS can help ensure that you're making smart business decisions. A point-of-sale (POS) system is a combination of software and hardware that allows businesses to complete purchasing transactions.
While it is not uncommon to think of a Point of sale (POS) system as the spot in your store where your customer makes the payment for goods or services that are offered by your business. A point of sale (POS) system is capable of offering much more than that. With the right POS system in place, you have the ability to simplify crucial daily business operations with greater proficiency that help improve you streamline your business.
Here are a few points that may help you get a fair idea on how a good point of sale POS system can increase your business sales:
Improve Efficiency
Installing a POS system in your retail store, will save you the time you spend on paperwork, scheduling employees, accounting and inventories among other essential functions in your business. That means, you will have more time to focus on satisfying your customers. A reliable POS system will make your business more efficient and your customers will be more than glad to shop in your store.
Maintaining and Managing Your Inventory
POS systems help keep stock of your inventory in your store. POS systems will provide you with essential data that will tell you what to stock and when. The Point of Sale software will notify you when the stock is running out and also show you the products that the majority of your customers purchase. Making the most selling products available on your shelves will automatically improve your sales.
Accommodating Various Methods Of Payments
Payment methods are a major factor to consider when choosing the right POS system for your business. Majority of the POS software today can process different payment methods ranging from, Visa cards, MasterCard, or mobile payments like android pay and Apple pay among others. Customers tend to shop where they can pay using their favorite payment method. That means, you will be able to offer your customers with a variety of payment options.
Processing Of Transaction Receipts
Having different business sales receipts options is a unique way to enhance your customer service. With a proper POS system, you can even request your customers to provide you with their email addresses and be sending the sales receipts on their emails. This also can work as a fantastic marketing strategy. A good POS software can provide your customers with properly designed and well-detailed receipts that will please them. This feature will eventually improve your customer's experience and sales too.
POS Systems Speed Up Transactions
Customers can easily get irritated when they are forced to wait on the long quest just to buy products from your store. A reliable POS software will minimize the time your customers spend at the cashier waiting to make payments. The system also will reduce incidences of human error that can lead to losses. Install a POS system with a barcode scanning feature to increase the speed of transactions and efficiency as well. Customers will always shop where they will be served within the shortest time possible.
Access your Data Anywhere
It would be a good idea to have a cloud-based POS system, as you would be able to access your data anywhere, any time. A POS for small business enables remote sales through its cloud servers. If your device loses power or disconnects from the internet, all of your sales data will save to the cloud for later access.
There are plenty of ways a POS can be used to help you as a retailer grow your business, from collecting data to executing strategic plans of action. The perfect POS for your business unlocks endless possibilities for you to facilitate healthy growth and develop a more efficient ordering strategy while keeping a happy and loyal customer base. To find the right one for your business, get in touch with us.