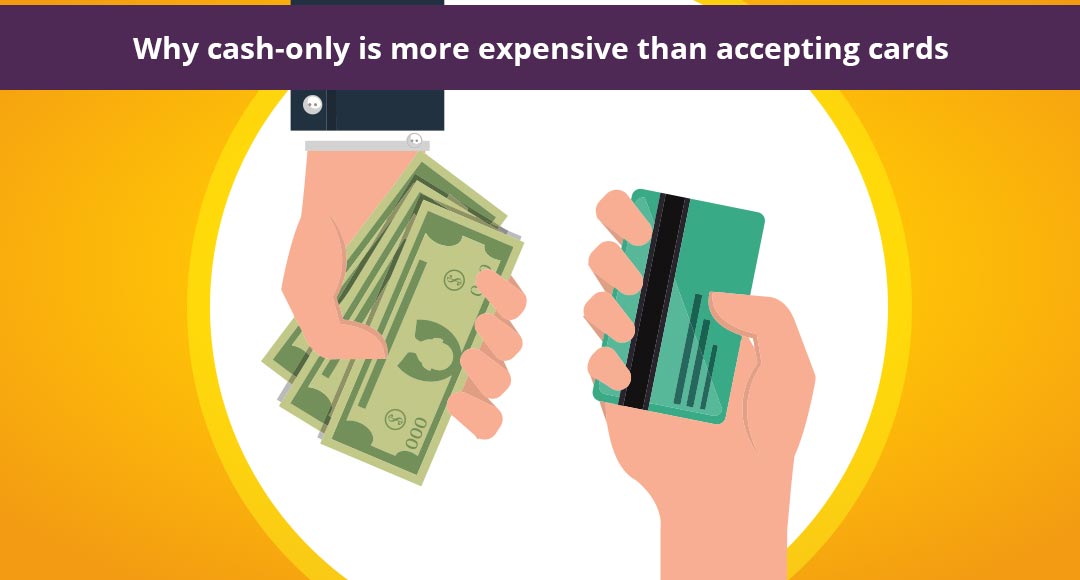 From a Kirana shop, to retail store, technology has made it's way into most forms of businesses. This has made conducting business, easier and seamless. Despite this, there are business that have remained cash-only even in this modern-era. If you are one among them, it might be the right time to change because accepting cash might just be more expensive than accepting cards. Here is why!
1.Increase revenue
This simple set up of card payment, boosts your sales. Increase footfalls by adding card payment option and enabling easy and quick payment options for your consumers. Every rupee spent through cash becomes 
2.Consumers spend more with cards!
Consumers of today, are less tolerant to "No Cards" signages. They prefer the convenience that comes with card payment, and without this relationship with the customer gets hampered. Especially millennials, who are more likely to use mobile payments, are less inclined to carry cash around. Also people feel less worry on spending when they pay card then paying by cash. This leads to an increase in average transaction value to also rise if you have a card payment option! 
3.Deliver good customer service
Accepting card payments has more or less become less a courtesy more of necessity. This is expected from the customers and not  having one leads to their disappointment.Customers are more likely to do business with you if you accept the form of payment that offers them the most convenience and flexibility. Also, having a seamless card payment system in place add to the value of customer service delivered. Customers do not want to wait or see rejected payments on their systems. 
4.Broaden your customer base
Currency exchanges and accepting one currency ignores international tourists, which is a big market when it comes to restaurants, stores at malls. Cards are a form of global currency. With cards converting the currency automatically, this becomes a hassle free approach. Make the world your market with card payment systems. 
5.Instant upgrade
Accepting cards gives your business a better image with greater credibility. The customer views you as a more  trustworthy and reliable business in comparison to business that only accept cash.
6.Increase Cash Flow
Waiting for payment ends with integrating card  payment systems. Cheque clearance, waiting for bills to get cleared is out of the way when you accept card  payments. Credit card payments take the waiting out of getting paid. Instead, your funds are deposited automatically and directly to your bank, usually within a few days, giving you faster payment cycles and better cash flow for your business.
7.Save time
In today's world, time is money too. Card payments are more efficient and less time consuming. The payment process is automated: automatic approvals and automatic deposits into your bank account. This means, your trips to the bank is reduced along with not having to print invoices or even dealing with bounced cheque will stop. Make more time for  your business from all the time you save.
Still not convinced? Talk to us to understand how our payment  systems can help you run your business more effectively.