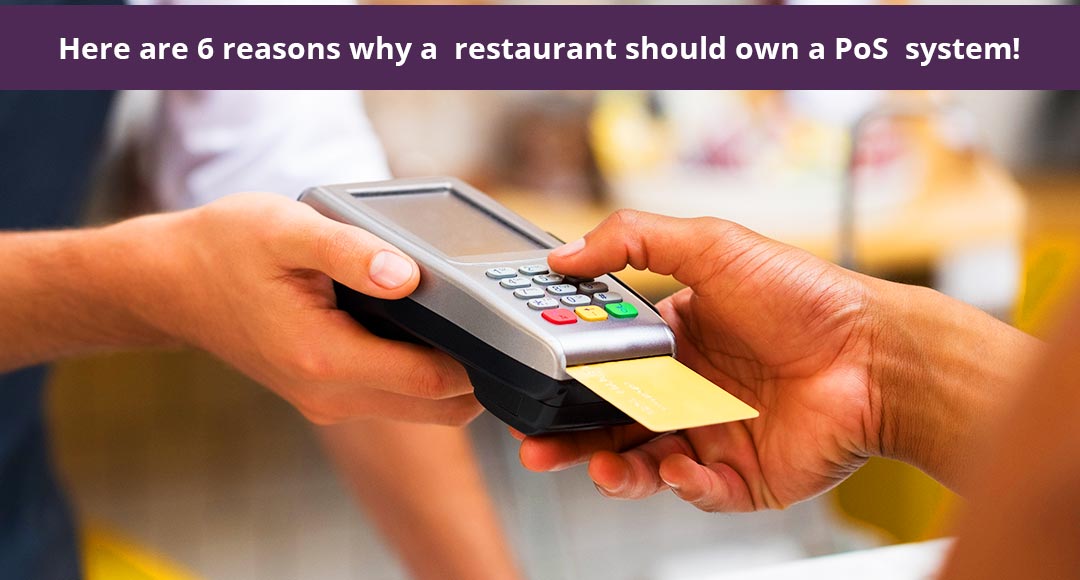 Have you ever wondered how restaurants stay on top of the food chain amongst the many competitors out there?
WHAT IS A POS?
POS stands for Point Of Sale, a device that can be used throughout different businesses and retail industries. This computerized system allows business owners to track sales, cash flow, and in the case of restaurants, food inventory.
POS devices can help simplify your book-keeping process enormously.
HOW IS A PoS USEFUL IN RESTAURANTS? 
In the food industry, there are a high volume of transactions that take place every single day be it cash or credit. With the help of a PoS system, you can track every penny of your sales, they also make swiping your debit/credit cards much more secure for both the customer and the business as it eliminates the hassle of carrying around cash, this in-turn helps cut down on employee theft.
Each waiter is held accountable for all their transactions and tables served, and it is impossible to alter checks in the computer unless you have the password which lies solely in the hands of the owner and manager.
Here are 6 reasons as to why a restaurant most definitely needs its own PoS system:-
Keep track of all your transactions:

Every transaction that takes place in the restaurant is tracked and recorded in real-time. You can even view the exact location of where the transaction is being done as well as reverse transactions that you want to be undone.

Safe and secure:

PoS systems are ideal for dealing with high volume card processing and they are also equipped with the best in class security to deal with threats and prevent sensitive information from leaking. Having a PoS system also helps curb embezzlement
Organise profit and loss:

A PoS system can help prepare the settlement at the end of the day and keep track of the income that is received. This will help save a lot of time, money and effort in regards to the accounting department. All the transactions received can be reviewed with just one click of a button to harvest all the necessary data needed in that particular department.
Go Paperless!

: Having a PoS helps automate your process and systematically file the transactions that takes place. You can provide digital receipts and get digital signature capture, no more hassle of storing paper receipts so it can be pulled out for reference later instead of filing away paperwork that takes up place and rifling through them manually to get to the data you need.
Easy integration & Setup:

The cost to set up a PoS is relatively cheap and the ROI on it is great. It can be set up within a days time and can be linked to your preferred bank to get your settlements. If anything goes wrong or there are issues with the PoS there are quick solutions and measure to ensure smooth running.
Engage and Retain Customers:

The system allows your to access your database and link your customers data to CRM. This in turn gives you lots of insights and data to act upon to engage your existing base of clients with Loyalty programs to incentivize and drive more sales while also retaining regular customers. 
In conclusion, 
Your PoS system plays a vital role in the functioning of the modern day restaurants. The day-to-day operations revolve around the PoS with the goal of tracking and recording data systematically. It helps simplify most tasks and saves a lot of time, money and resources which otherwise could have been put to good use. As a restaurant owner, It's crucial that a PoS system is implemented in your place of work to stay relevant and have an edge over the competition. Get in touch with us now and invest in the future of your business today!