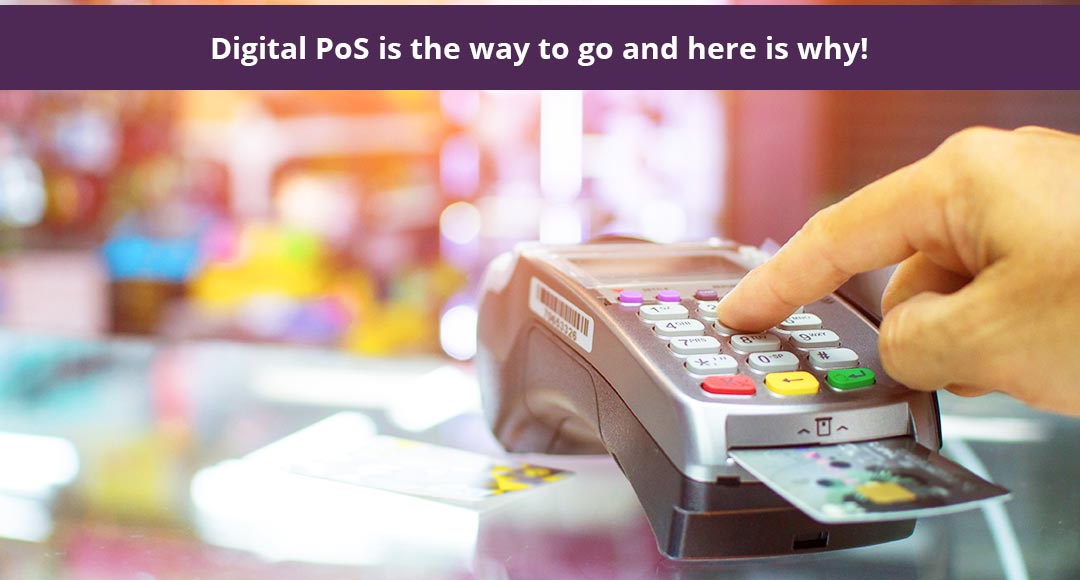 For those of you who are yet to make the decision to move to digital based solutions in your business, it's time to ask yourself a few questions.

How are you managing your in-store processes like tracking sales,processing finances, managing inventory and reporting the performance of your business? 
A digital POS Stands for a Digital 'Point of Sale' device that has a mobile, systematic and organised, well-structured solution for modern retail problems.

The digital POS solution gives you the framework to run your store efficiently and effectively. With the internet age of business growing, you can process sales easily and at the same time track when, where and what has been purchased. This standard process in business gives you the power to do more than just accept a customer's payment. For example, by tracking stock movements you have visibility over what your best and worst selling products are, which gives you the power to more accurately invest in inventory stock. In tracking sales and stock movements you have the ability to quickly and accurately understand your store's financial performance. All this can only be achieved with a digital POS solution.
As the challenges of the internet age of businesses heighten, digital POS solutions are playing a larger role.
Here are a few things to keep in mind as to how a digital POS is the way to go:

1) Customer reach and engagement: A digital PoS always provides mobility and immediate services to satisfy the ever growing demands and needs of the consumer.
It can close sales anywhere and anytime.
2)Optimize your business operations: With how fast the market is expanding, a digital PoS will help you find the optimal solutions based on the business data.

3)Mobility: A digital PoS promotes mobility and the ability to close a sale anywhere. They have a low cost of set up and are easy to use for the average merchant and consumer. This provides us with a lot of options to accept different payments and keep track of what is being sold.
4)e-commerce potential: Digital PoS opens you to a realm of countless possibilities and transaction related to e-commerce. This empowers vendors to further increase sales and drive revenues.
Digital PoS is the way to go for the future of any kind of business. It is a powerful device when used in the right environment with the right tools to stay ahead in the market by leveraging on its endless benefits. Bijlipay are leaders when it comes to Digital POS devices- reach out and set one up with us today!