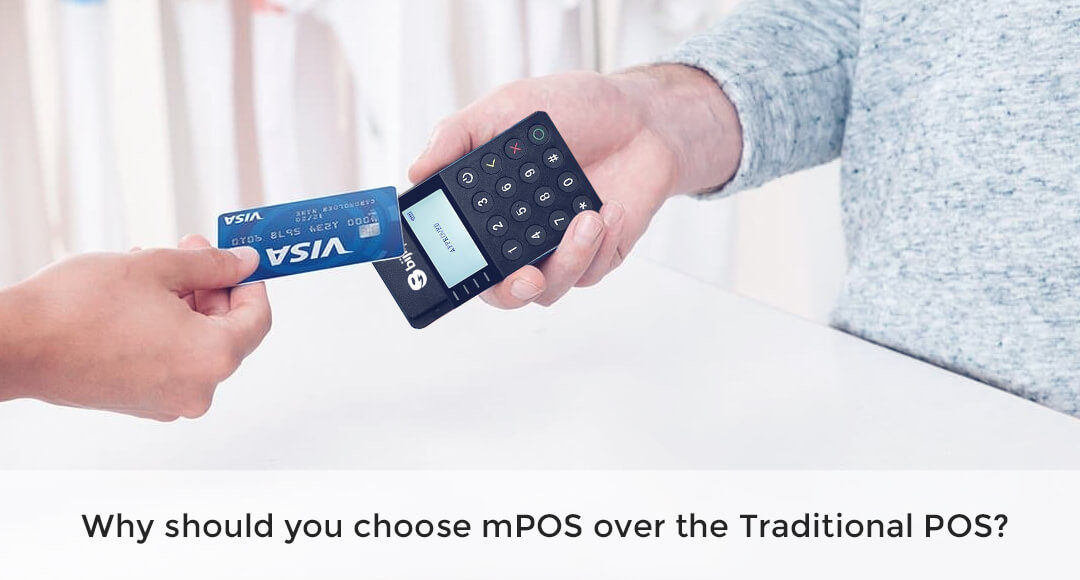 If you have been accepting card payments in your business, a traditional POS terminal is nothing new to you. While one might call the big card swiping machine that is connected to the wired telephone line as a point of sale (POS), the real POS is the whole system: the monitor with touch screen, CPU, cash counter that is auto-locked, card-swiping device, and the telephone line.
While this traditional POS system works well in accepting card payments, no matter whether it is a chip and pin or a swipe card, it has its own share of disadvantages. From being bulky to being fixed, there are quite a few cons in this setup. In the current world, where card payments have become inevitable, to make payments smarter, quicker, and more convenient for your business, you need to opt for the latest trend – the mPOS or mobile Point of Sale.
An mPOS is a  smarter alternative to the traditional POS which connects to your smartphones via Bluetooth. It uses your mobile phone's data connection to process transactions. All you have to do is to download the relevant app, connect your mobile phone to this device, and start accepting payments on the go.
Still not convinced on why you must choose mPOS over the traditional POS? Read these reasons!
mPOS allows you to accept payments on the go
One of the most important advantages of mPOS is that it accepts payments while you are on the move. No matter whether you are an online eCommerce business that delivers products with a card-on-delivery option or a restaurant that accepts home delivery for your food – mPOS works the best.
mPOS doesn't require any high-end technical knowledge
Unlike other payment methods, mPOS might not require any complicated technical knowledge. The software in mPOS app is quite user-friendly. Therefore, you can buy multiple devices for all the delivery personnel's or have more than one billing counter in your store to reduce the waiting time of your customers.
Traditional POS may have high installation costs
If you are someone who doesn't have a traditional POS setup already in your business, setting it up fresh would involve a lot of money. You need to get a telephone connection or a SIM card, and the card swiping machine. On the other hand, for an mPOS, you get the device at very affordable rental plans or at a fraction of the price compared to a traditional card swiping device
mPOS is easy to maintain
Training the staff about the POS system, maintenance, and repair of the hardware and software, the security upgrades, etc. would come with an extra cost and effort. In the case of mPOS, all you need to do is to download the app and start using it. The device is quite compact, and the maintenance is absolutely zero. Also, if you buy your mPOS devices from a credible payment solutions provider like Bijlipay, you need not worry about the quality of the device as they offer devices which are from Europe and the not the usual cheap ones made in China.
Automated settlements & integration capabilities
To start with you don't need to start a new bank account. You can use your existing current or saving accounts to accept card payments.Furthermore, you will get a real-time report of all the transactions right on your smartphone. The best feature of an mPOS device is that this can be easily integrated with your native business App or your billing solution, making it very easy to use and removes the hassle of using multiple devices
mPOS is secure
Due to its compliance to PCI and EMV2 industry standards, mPOS is highly secure. mPOS devices are said to have the highest transaction success rates as well. Also, with geo-tagging facilities, most mPOS devices allow you to find where a transaction takes place.
Also, read our blog on "5 ways in which your business can benefit from mPOS."
Have you moved to mPOS already? If not, now is the right time to do so.