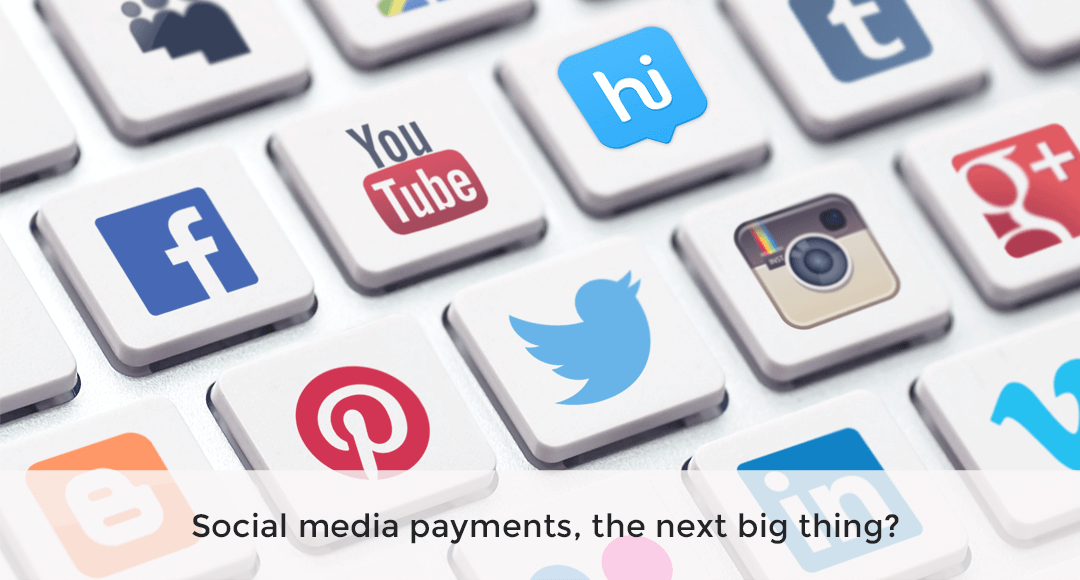 Social media has come a long ways since being introduced as an innovative method of communication. What started as a medium for connecting with peers across the globe has morphed into a business tool for ads and brand promotions. Social media pioneers will continue to innovate and the latest evolution involves the implementation of payment gateways within the social media space.
So why has this trend kicked off? You simply have to look at the numbers to get the answer.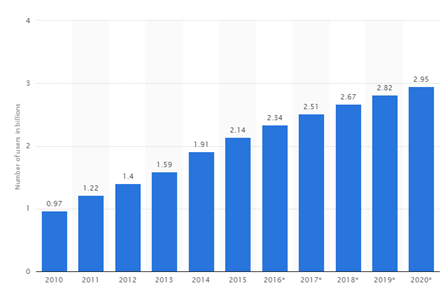 Source: https://www.statista.com/
The graph above indicates the steady rise in the total number of social media users globally. That number is expected to rise as we near 2020. Couple this stat with the fact that 71% of people depend on social media referrals to influence their purchase decisions, and you realise just how powerful social media can be as a total e-commerce tool.
Realising their potential, many social media apps have already started rolling out payment features that offer either peer-to-peer payments or enable online purchase directly, eliminating the need of a middleman. While the US, Europe and most of East-Asia have embraced this new payment technique, India has only just been introduced to the concept.
How it all began
The first few scenarios of social media being used as a payment support system can be traced back to 2015. This was a time when e-wallets were starting to gain popularity in the West. Here a quick look at some social media apps that are offering payment systems.
Venmo:Venmowas the first of many e-wallet apps to make use of social media to send payment notifications. Venmo let users sync their e-wallet with their Facebook account and automatically converts transactions done within the app into a Facebook status.
Facebook Messenger: Facebook's business support angle is one of the strongest, so it's no surprise that the social media giant has launched peer-to-peer payment support through their chat app Messenger. The feature is still being tested and is only available in the USA at the moment.
Snapchat: Snapchat's payment feature, aptly called Snapcash works similar to most peer-to-peer payment features. When the user types the dollar symbol and enters an amount the send buttons morphs into a green Snapcash button.
Twitter: Twitter's Tweet Purchase option opened a whole new way for businesses to sell their products directly from a Tweet. Sellers simply need to Tweet about their products, while Twitter's algorithms identify a chance for purchase. Users can click on a Buy button if they are interested in a purchase.
India's introduction to social media payments came with the launch of Hike Messenger's Hike Wallet.Hike Wallet lets users transfer and receive money through UPI as well as make mobile recharges directly through the app.
WhatsApp is also set to lunch a UPI based payment gateway that works similar to that of Hike, and thanks to its astounding number of users (200 million and counting), WhatsApp could prove to be very useful as a full-fledged social media tool.
With Hike and WhatsApp expected to revolutionise payments in India, here's a look at how it could impact the economy and a consumer's  purchase behaviour.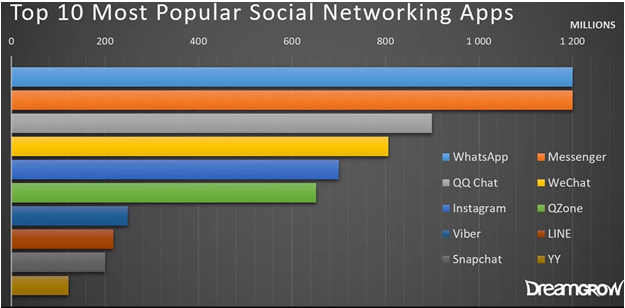 Source:https://i2.wp.com/www.dreamgrow.com/wp-content/uploads/2017/05/top-most-popular-social-networking-apps-bars.jpg?ssl=1
Banks can expand their customer outreach
Ironically, most Indian banks have been on the opposite end of digital payments since its introduction. There's been a slight dip in the number of customers that use banks as their daily dependent wallet. But that could change soon for the better if banks implement social media into their payment methods. Major banks like ICICI and Kotak Mahindra are already taking advantage of social media platforms to connect more intuitively with customers. The former uses Twitter to promote "icicibankpay", allowing customers to tweet money to anyone while the latter launched KotakPay that allows transactions through Facebook.
Enabling more precise data insights
Social media has a massive database of users, even bigger than a bank, so it makes perfect sense to blend online payments with social media platforms. Even with so many active users, social media algorithms are advanced enough to categorise and streamline the flow of information customised for each user. Banks can take advantage of these algorithms to target niche customers with specific payment options and alerts that relate to them.
Mobile becomes the new wallet
From exchanging cash to swiping cards, payment methods are getting easier with every invention. The next big thing is mobile payment terminals; a concept that uses a digital version of your credit/debit card on your phone to make payments. Smartphone giants like Samsung and Apple have been busy promoting their respective payment services, and the trend will continue with more affordable Android devices that are being sold in huge numbers to the rural market. The fact that mobile phones are becoming an essential part of daily life is a great excuse for social media platforms that have integrated apps, to further build on dedicated payment gateways.  Bijlipay's POS devices are the next best way to complete transactions.
Making payments super-easy
The option to sit at home and shop was extremely well-received when e-commerce portals rolled out. Now with mobile phones and social media becoming the centre of everyday life, sellers had to think about different ways to reach customers. Facebook paved the way by introducing social storefronts; letting sellers promote and sell their products directly on the site through dedicated targeting algorithms based on consumer activity. This method significantly increased consumer traffic for many brands that were active predominantly on social media, so Facebook is looking take it a step further by implementing payment features on the popular online messaging channel-WhatsApp. Doing so could greatly enhance the ease of use mobile phones offer coupled with the quick payment features of social media.
Expands business opportunities
The rise of social media opened new business opportunities for many individuals. Platforms such as Facebook realised their potential beyond just a casual means of communication. People had the freedom to open virtual offices and promote their products, but to sell the products traditional methods had to be applied. E-commerce platforms made the selling easier but there is still the issue of time and resource management. Now, with social media platforms involved in direct sales, managing a business online gets more streamlined and easier to maintain. It also holds promise for more businesses to open exclusively on social media platforms. The current trend revolving around social media for business sees over 2 million women homemakers raising a combined profit around 9 billion in gross sales.
Increasing the chance of a quick purchase
The rise of the internet and social media has put purchasing power into the hands of a consumer. Consumers now have the freedom to decide what product to purchase depending on the purchasing behaviour of other consumers. Products go through a more detailed layer of critical analyses thanks to factors like online reviews, forums, influencer marketing and testimonials. Social media has effectively become the new customer relationship management centre. Products will be sold at a faster and more increased rate if sellers can implement payment strategies smartly into their online marketing techniques.
Social media, like any other innovation, is likely to go through a never-ending process of updates and improvements. The Indian online marketplace ranks second in the world, so there is no doubt that social media payments will become a major hit in no time.