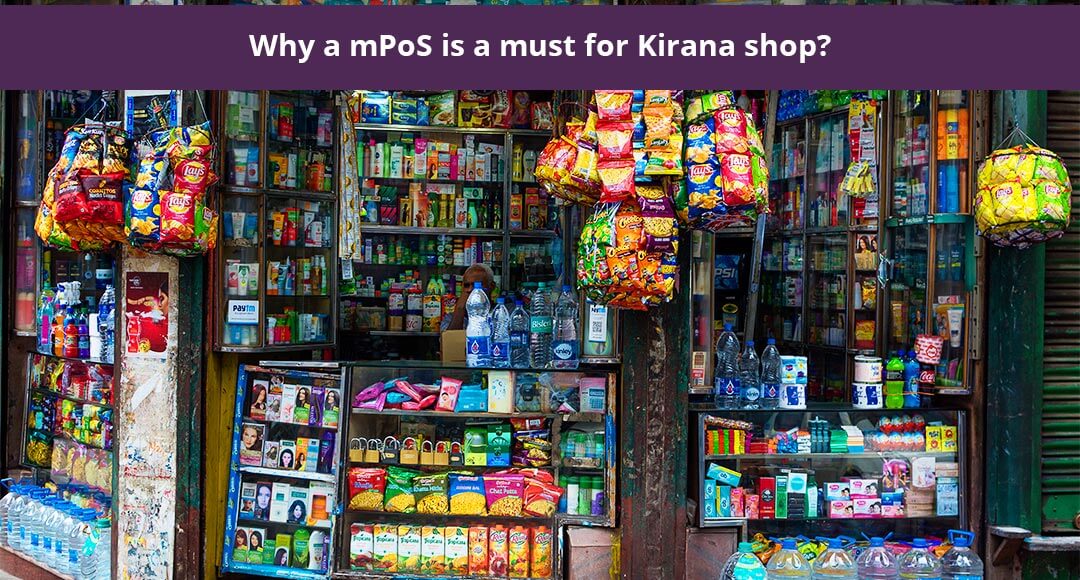 Kirana shops are widely spread around the country and can be found in almost every street corner that we turn into. They have a set of loyal customer base and continue to innovate their business operations in small ways possible. They are often seen with only cash mode of payment and here is why it's time Kirana shops move over to mPoS for accepting card payments!
But before that, what exactly is the mPoS technology and how does it work?
A mPoS (mobile point-of-sale) is a smartphone, tablet or dedicated wireless device that performs the functions of a cash register or electronic point-of-sale terminal wirelessly. 
There are also dedicated mPoS's that can be set up to perform all the functions with its benefits.
Here is why such small businesses absolutely need an mPoS system set-up:
They can easily be set-up with an internet connection, a credit and debit card device reader. An mPOS can also be used for ease of maintenance and transactions involving purchases. They make it easy for small business to integrate in their business and is a relatively quick affair.

An mPoS machine is very cost effective to purchase and maintain and gives a significant edge to the small business over others as its a step over the competition. It can drive sales in any environment while it eliminates the need to deal with cash related issues like finding change, shortage of money at hand etc. With a mPoS in hand, Kirana stores can also accept payments for  home deliveries through card and avoid the hassle of carrying cash.

A mPoS system is very safe to use and maintain. As there is no physical cash involved in this transaction, this set-up can very well prevent situations like theft or misplaced cash by the employees. It also keeps track of the time and record of sale made so it can be used as reference later.

A mPoS system has a variety of flavours when it comes to the term functionality, as it has a set of tools that will immensely help retailers and customers alike. One such tool is that it provides shops to use an mPoS to act as an ATM machine so the customer can come and withdraw cash which is very useful for them. It also helps in handling critical operational tasks like inventory management better for the retailers themselves.

Recent trends have shown that the contactless payments and mobile wallets like Google Pay and Samsung Pay are increasing in popularity, mPOS systems are also better equipped to accommodate those customers who simply wish to tap or dip their phone to pay. This greatly increases customer satisfaction and they'll be willing to frequent places that offer such services over the other shops in the area.

The mPoS system has been a blessing to all small shop owners who wish to take control of their business and stay a step ahead of their competitors by focusing on increasing revenue and sales. The mPoS ultimately helps empower and drives that point by offering systems in place to guide kirana owners to do so. We at Bijlipay are committed to helping businesses transform and empower our clients with the right tools for the right environment to grow your business significantly. Contact us here if you want to get your mPoS system set up!